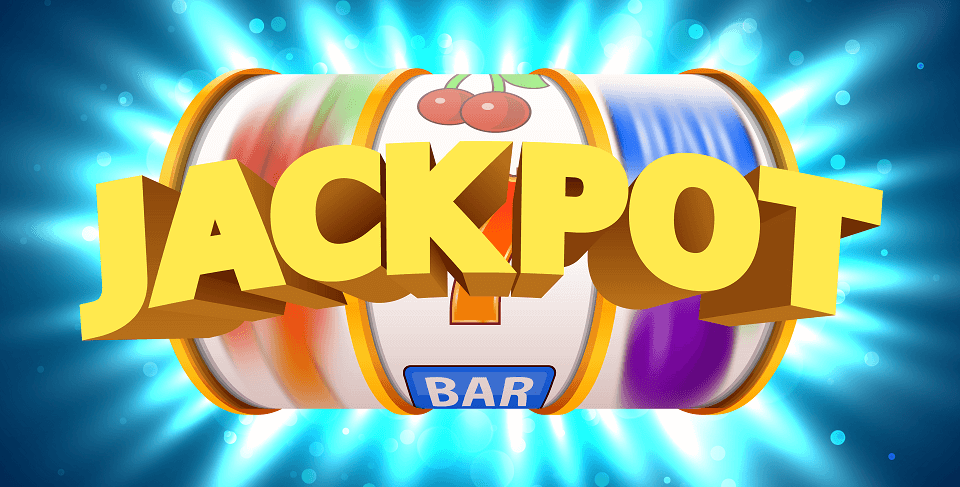 At this point, it is quite safe to admit that winning a massive jackpot prize is every gambler's sweetest dream. This can be done if you are having a very lucky day and trigger a progressive jackpot when its collective amount reaches a specific threshold. If you are new in the gambling arena and looking for some promising progressive jackpots, you may want to take a look at the 5 best ones that our experts have hand-picked for you. The jackpots are chosen from the three renowned game developers, based on their popularity, number of wins and amount of cash prizes.
Mega Moolah
Mega Moolah is undoubtedly one of the most played progressive slots from Microgaming. It is a bright and vibrant African safari themed slot which can be played in multiple Mega Moolah hosting casinos. Over time, the slot has gradually become a user-favorite and now millions of players try the game every day.
Software: Microgaming
Reels: 5
Paylines: 25
Coins Range: 0.25p to £125.00
Other Games: Mega Moolah Summertime, Mega Moolah Isis, Mega Moolah 5-reel drive.
Unlike the contemporary casino games, Mega Moolah remains unique as it has 4 different themes. Regardless of where you reside, you can play the game in African, American, Egyptian or Summer theme. The best part is that you can win in any of these versions. This is not just where the fun ends. No matter when and where you win the jackpot prize, the amount will be paid out in your local currency.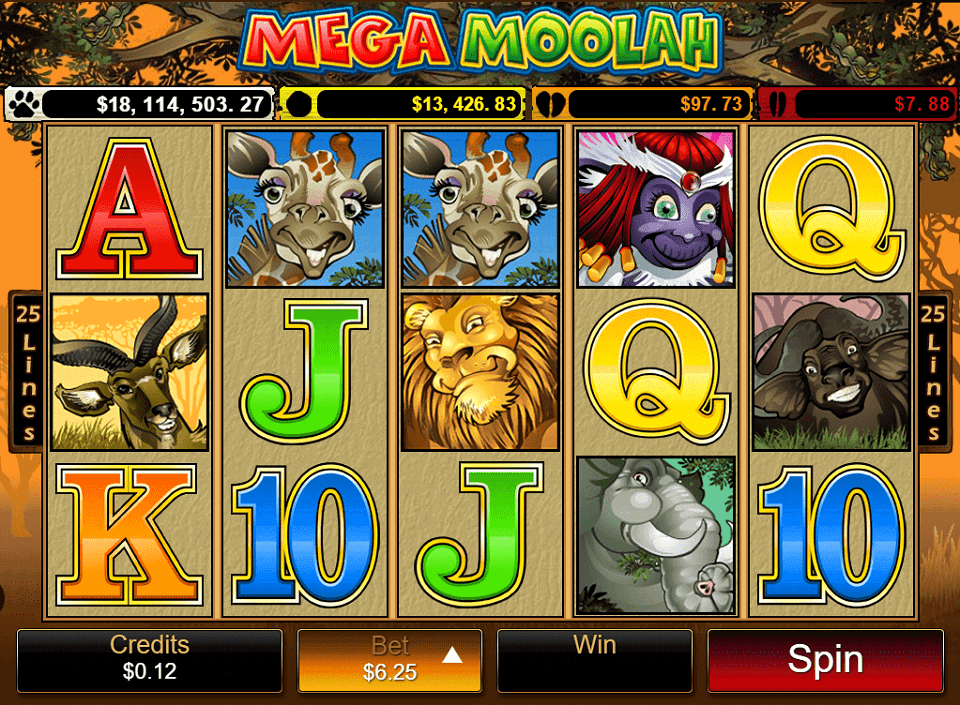 Now, the minimum seed amount you can win is £1 million, which is amazing because the maximum is over £10 million! These huge wins are triggered randomly, so there is no secret strategy other than to keep playing this slot and hoping for the best. However, the long list of lucky winners over time may raise your hopes up and encourage you to try to see your name next.
Major Millions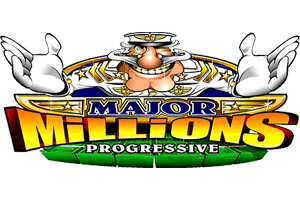 Major Millions is one of the oldest Microgaming progressive jackpots which has aged well and still managed to keep its attraction. The reason behind its massive popularity among the gamblers worldwide may be due to the fact that the game offers a generous amount of credits. Players can try this highly rewarding slot within an affordable coins range.
Software: Microgaming
Reels: 5
Paylines: 15
Coins Range: 0.20p to £3.00
Other Games: Major Millions 3 reels Versions
The symbols in this slot are kept thematic and brightly designed along with the wealthy Major himself. The key to success in this slot is to receive the wild symbol. You would need to land 5 of them on the 15th payline. Once you do so, you will bag the jackpot prize which is mentioned above the reels.
Major Millions is available in all the Microgaming powered online casinos. Even if you do not play the game to experience its full potential, you can still try it for the base game which is rewarding as well. However, the appearance of progressive wins in this slot is quite common and so far it has been triggered almost 70 times!
Jackpot Giant 
Jackpot Giant is developed by Playtech with a unique concept which allows the players to avail this slot in both jackpot and progressive jackpot features. It is both interesting and a clever move on the developer's part as the players will have more options while playing the game. Visually, Playtech never cease to amaze the fans and such excellence is clearly seen in Jackpot Giant.
Software: Playtech
Reels: 5
Paylines: 50
Coins Range: £0.50 to £4.00
Other Games: None
In this slot, the symbols are set on transparent reels with meadows and mountains set as the backdrop. One can start the game by setting the coin denomination from the control panel. Once you start the base game, you can win big from the high valued symbols and the bonus features. Here, you will see the animated giant flicking coins at you and making your richer with each new flick. However, you can win the ultimate grand prize by landing 5 wild symbols across the first payline.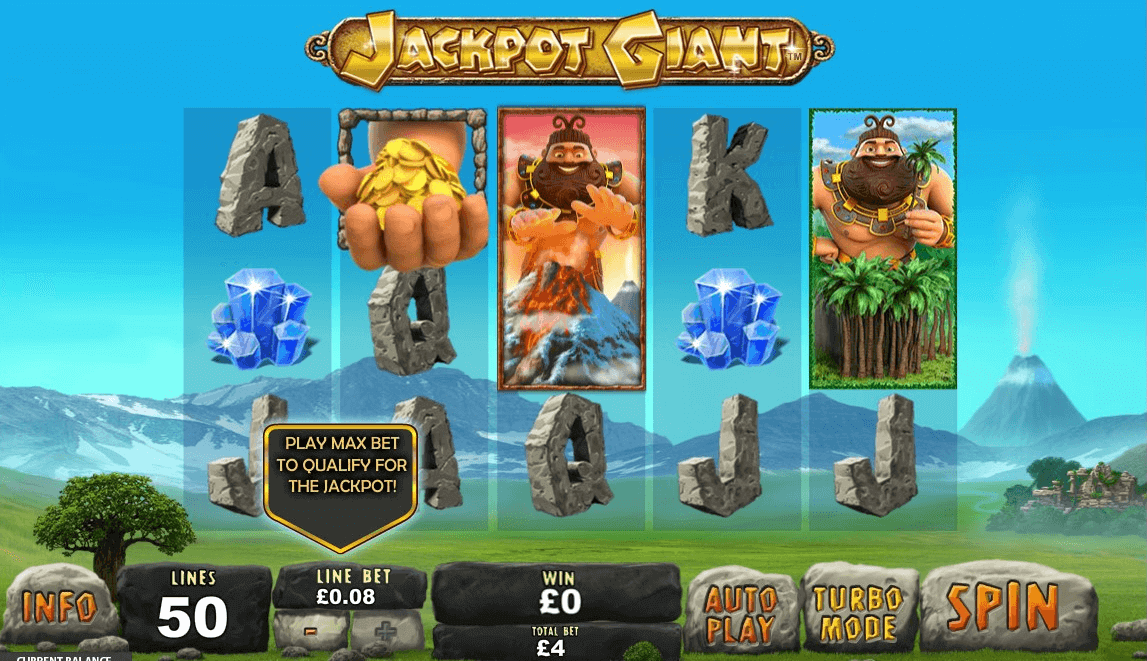 It may appear a bit hard to get this combination. The best you can do is to play the game in the maximum bet with all paylines active. It increases the chances of triggering the progressive jackpot, which is not so uncommon in this highly volatile slot.
Beach Life

Beach Life by Playtech is another great progressive slot that has been ruling the gambling arena since its launch. The theme of this game is pretty much as the title suggests. You get gorgeous characters along with a relaxing and soothing background. If its realistic portrayal impresses you, you may start hoping for hitting the progressive jackpot as it will allow you to take a long holiday without any care in the world.
Software: Playtech
Reels: 5
Paylines: 20
Coins Range: 0.50p to £10.00
Other Games: None
You can win its massive grand prize if you manage to land five wild symbols on the 20th payline. As the game does not have any fixed number of paylines, a pro tip to succeed in this slot is to play on all 20 paylines. In that way, you can increase your chances of winning higher cash prizes.
The slot also offers mini games. With a combination of the highest paying symbols and the bonus games, you can win up to 2000x. The history of progressive jackpot wins in this slot is pretty impressive which rose up to £5.1 million. If it is encouraging enough, you may give this slot a go.
Mega Fortune Dreams

If you have enjoyed NetEnt's Mega Fortune Progressive, then you will probably love its successor, Mega Fortune Dreams. Now, Net Entertainment never fails to impress its fans with stunning and innovative slots. Mega Fortune Dreams is not different either. With high-quality graphics and aesthetic visual, this luxurious lifestyle themed progressive slot is sure to blow your mind. Since the beginning of its journey, the slot has been a huge hit among the jackpot lovers. The game has unique symbols, both free spins and multipliers features and multiple bonus rounds. The game is not only available in desktops, but also in mobile platforms.
Software: Net Entertainment
Reels: 5
Paylines: 20
Coins Range: 0.20p to £80.00
Other Games: None
Apart from the progressive feature, one can also win huge amounts of cash prizes from the base game. The gameplay is simple and all the necessary options for playing the game easily can be found on the control panel. The progressive jackpot can be won anytime during the game. There are 3 of these jackpots and the sum of them are displayed above the reels. As it is one of the most played progressive jackpots, the wins are triggered quite a few times in a year. The highest number of wins (12) came in 2017 with the highest winning being more than £4 million in the same year.
Final Words about Progressive Jackpots
Even though we have curated a shortlisted version, there are plenty of great ones which offer fun, entertainment and rewards within an affordable price range. Check out our site's well-stocked portfolio if you are interested in bigger and better progressive jackpots.